Researching the MBI:TAC
The central question in the MBI:TAC research journey is: how can one reliably and validly assess Mindfulness-Based Programme (MBP) teaching practice? It is a question that matters in professional training, routine practice and research context. Bangor University's Centre for Mindfulness Research and Practice (CMRP) founded the first Masters programme in this field in 2003. Professional training to deliver MBPs was embedded into this, which threw up the challenge of assessment of MBP teaching practice. In 2006 Exeter and Oxford Universities also established mindfulness Masters programmes, and soon after we worked together to collaboratively develop a set of criteria that we could use within Master's programme teaching practice assessment. Our aim was to benchmark the level at which trainees graduated within the UK context.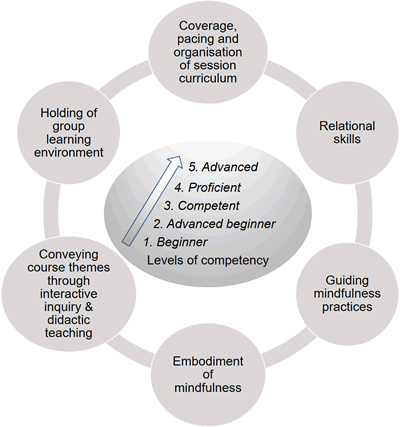 Domains and competence levels of the MBI:TAC
Development of the criteria
The creation of a clear framework which defines the elements of MBP teaching, and unpacks these via detailed descriptions of the observable features of skilled teaching was central to the development process. We developed a 'map' of the territory of MBP teaching practice. The work was conducted through iterative grounded theory generation of the elements of MBP teaching practice via careful observation of video clips of teaching practice. Through 2007–8 the MBI:TAC was refined through a series of developmental stages in which face and content validity of the tool were informally tested by an expert panel from the three universities. The resulting tool contains six domains (coverage, pacing and organisation of session curriculum; relational skills; embodiment of mindfulness; guiding mindfulness practices; conveying course themes through interactive inquiry and didactic teaching; and holding the group learning space). A scale for assessing competence enables differentiation of competence based on six bands.
Testing the psychometric properties of the tool
Research on the psychometric properties of the tool was then conducted within the context of routine assessment of MBP teaching practice within the three master's programmes. This demonstrated strong inter-rater reliability (intra-class correlation coefficient; r = .81, p < .01), and good evidence of internal consistency, construct validity, and concurrent validity (Crane et al, 2013). The process demonstrated that it is possible to define the observable aspects of MBP teaching competence, and to organise these into a reliable and valid tool. The tool is the first and still the only tool within the MBP field that assesses both adherence to programme and competence of the teacher in the MBP field.
Research conducted at Bangor University demonstrates that an additional year of teacher training which includes assessment via the MBI:TAC leads to better outcomes for the participants in the classes led by the more highly trained and assessed teachers (Ruijgrok-Lupton, Crane & Dorjee, 2017). This adds strength to the validity of the tool. Gains in well-being and reductions in perceived stress were significantly larger for the participant cohort taught by teachers who had completed an additional year of mindfulness-based teacher training and assessment.
International research on the MBI:TAC
Two international research groups have conducted studies on the MBI:TAC:
Prof Anne Specken's group at Radboud University embedded research on the MBI:TAC into a randomised control trial of MBCT for depression prevention. Dr Rebecca Crane and Prof Willem Kuyken conducted brief training of raters prior to their assessments of MBCT teaching quality being captured as research data. Some aspects of the psychometric properties of the tool were strong (internal consistency), but inter rater reliability was moderate and findings indicated no robust effects of teacher competence on possible mediators and outcome variables in MBCT for recurrent depression (Huijbers et al., 2017). The finding that inter-rater reliability does not easily transfer to other cultures, and to groups who were not involved in the tool's development was significant. This stimulated us to develop a more robust, systematic, structured methodology for training those using the MBI:TAC to assess teaching practice.
Profs Rick Hecht (University of California San Francisco) and Judson Brewer (Brown University) are leading 'Predictors of Outcomes in Mindfulness-Based Stress Reduction Participants from Teacher Factors (PROMPT), funded by the National Institutes of Health. Dr Rebecca Crane and Prof Willem Kuyken are consultants on this grant, and in Phase 1 led the training of a cohort of MBI:TAC raters using the newly developed methodology, and evaluated their reliability. Phase 2 of PROMPT involves linking assessments of teaching competence conducted both by the trained raters and by MBSR course participants, with data on participant outcomes. The outcomes of this study are currently being analysed.